Keynote Speakers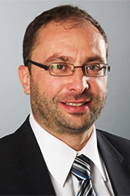 Gerald Cavalier
Tecnea-Cemafroid, France
Gérald Cavalier is president of Cemafroid, a Tecnea company. Cemafroid is an independent expertise center for Cold chain, Refrigeration and Air conditioning (www.cemafroid.fr). Cemafroid offers to professional equipment testing and verification, Studies and expertise, Certification and evaluation, Public services and Training.
Gérald Cavalier is also:
- President of IIR Section D on cold storage and refrigerated transport of International Institute of Refrigeration (www.iifiir.org).
- President of AFF, French Association of Refrigeration (www.association-francaise-du-froid.fr) since 2013.
- Co-President of « Cold chain of health products» AFF-SFSTP commission, (www.association-francaise-du-froid.fr) since 2009.
- Administrator of IFTIM, a training institute (www.aft-iftim.com) since 2005.
- Technical expert for Transfrigoroute France and Transfrigoroute International, French and international association of refrigerated transport professionals.
- French delegate for UNECE WP11 on Transport of Perishable Foodstuffs in Geneva.
- Cold chain Expert for the World Health Organization (WHO).
- Member of standardization committees: AFNOR, UNM and CEN.